A community of trained, experienced kinksters working together to create
life changing experiences for those who dare to reach past their limits.
Calling all Flyers, Dancers, and Supporters! SuspenDC hosts a day of Flesh Hooks at The Crucible. From Noon to 2am SuspenDC will offer you the chance to challenge yourself through ritual flesh hooks. The team offers you the chance to dance with hooks by doing a pull or to take flight with a suspension. From…
Join the SuspenDC team at Deep End on April 29th in Philadelphia, PA. This edge play party starts at 7:30PM and goes until 1AM. The SuspenDC team will be on hand offering attendees the chance to experience hook pulls with 12g octopus hooks on a first come first hooked basis until our supplies run out….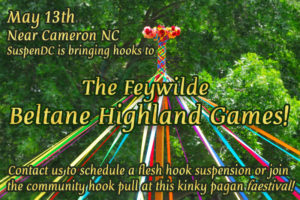 The SuspenDC crew heads South for Beltane!Join the team in Cameron, NC, at the Feywilde for a rawcus celebration of Beltane at their Beltane Highland Games. The Feywilde community invites you to revel in your sacred sexual self at a day of ritual, feasting, games, and entertainment. SuspenDC will be on hand helping celebrants experience…