SuspenDC is organized by Whittney Matlock with a great deal of support from members of the BDSM, Pagan, and Body Modification community here in the greater DC area. SuspenDC creates a space for personal and community rituals of challenge and ordeal. A practicing shaman for the BDSM community, Whittney and the team holds safe space for others to create their unique experience of the mystery of ordeal. A more complete discussion of Ordeal as Ritual can be found at Why We Fly.
The SuspenDC team evolves over time. All current team members demonstrate skill and enthusiasm in helping people to fly. Some team members specialize. Others work many different positions within the team. Working together we create opportunities for people to experience wonder through ordeal. If you are interested, here is How We Train.
Current Team Core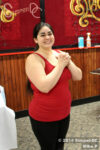 Maggie
Ground Crew
Expert Ground Crew and Piercing/Clean Up Assist.
Frank
Rigger
Expert Rigger,
Belay, and Piercer
Willow
Piercer
Expert Piercer,
Rigger, Ground Crew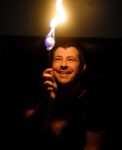 Ben
Flight Control
Flight Schedules, Crew and Flyer Wrangler, Piercing/Clean Up Assistant